"Eat breakfast like a king, lunch like a prince, and dinner like a pauper".
It's an oft-forgotten saying, but consider it for a moment. We hurry to work after a mediocre night's sleep, depriving ourselves of a solid breakfast. Frequently missing out on a proper start to the day can lead to fatigue and the feeling we're stuck in a rut. The morning is a launchpad that sets the tone for the rest of the day. The importance of a meal that's tasty and easy to cook cannot be overstated. This article will show you how to enjoy various egg-based dishes for the whole week.
Fried eggs are considered a staple of European cuisine, but even ancient Egyptians fried ostrich eggs on an open fire. The Romans had fried eggs with honey for dessert. In Russia, before the Patriotic War of 1812, fried eggs were a festive treat served only in wealthy households, but after the war they appeared in the houses of farmers and lower-class citizens.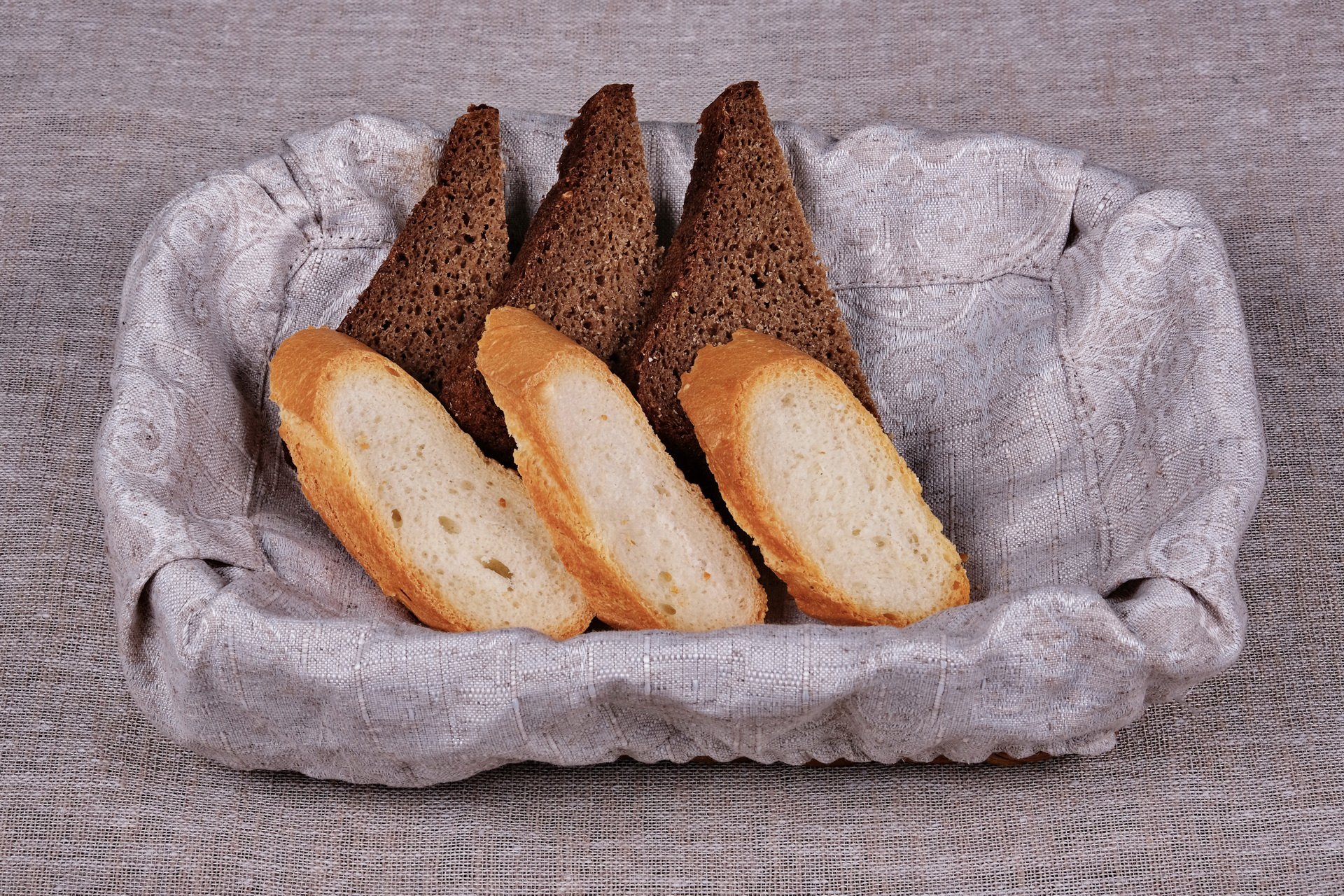 Monday: sunny-side-up or scrambled eggs
Ingredients:
Eggs;
Salted fish (trout or salmon);
Fresh vegetables (cucumber, tomato, radish);
Salt and pepper.
Crack the eggs into a hot pan. If you're making sunny-side-up eggs then be careful not to break the yolk: let the «sun» that gives its name to the dish shine on the chef. Or do you prefer scrambled eggs? In that case you should whisk the egg yolks and whites together in a separate dish.
Sliced vegetables and fish are usually served with fried eggs. If you prefer meat you can add sausage, ham, bacon or cold cuts.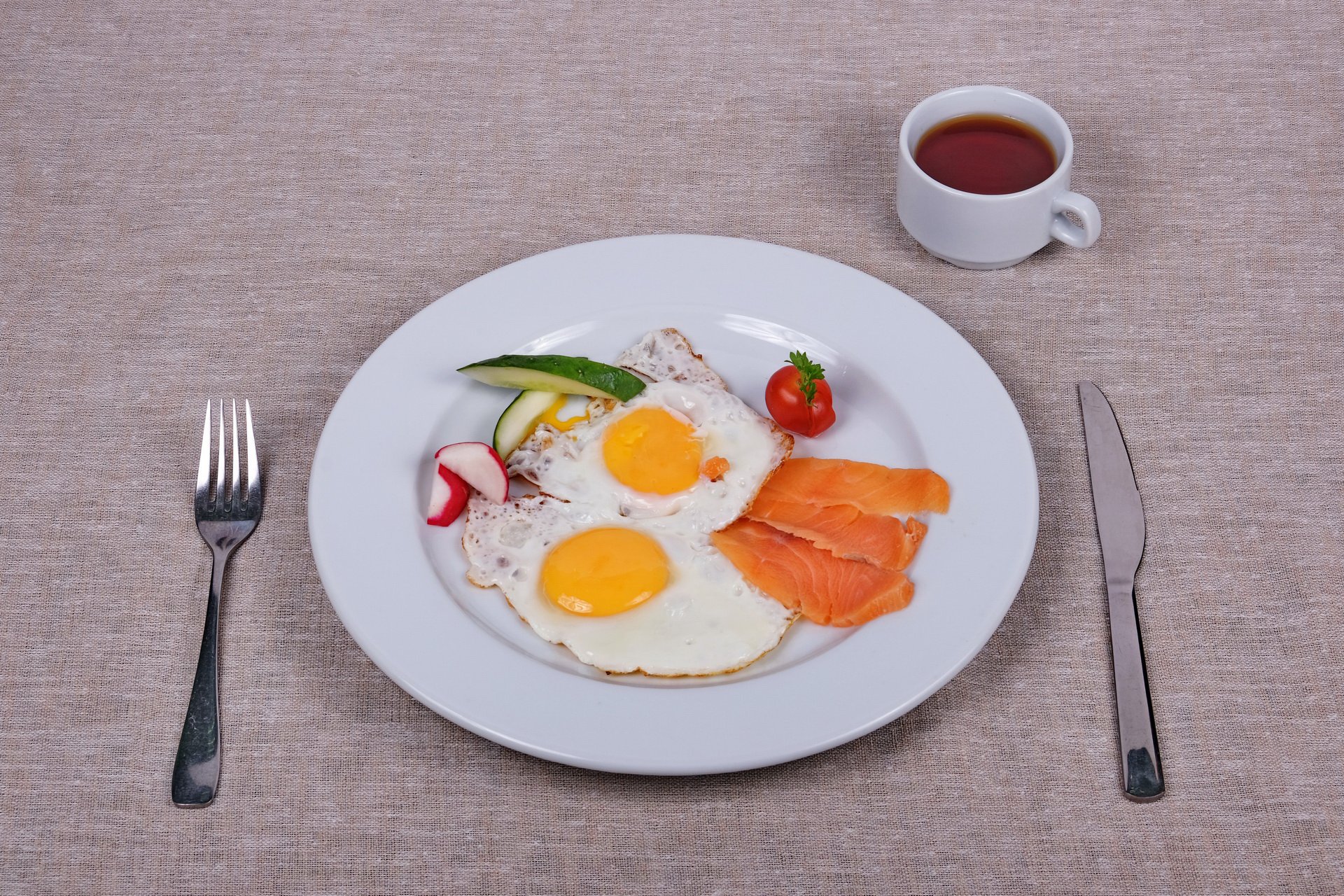 Tuesday: omelette
Ingredients:
Eggs;
Milk;
Mayonnaise (optional);
Salt;
Cheese;
Dill, parsley, spring onion (optional).
Whisk the eggs thoroughly with milk in a separate bowl and pour into a hot pan. To thicken the omelette simply add a couple of spoons of mayonnaise to the mixture. Proponents of healthy eating usually avoid store-bought mayonnaise, but if it's homemade they'll be sure to love it.
When the dish is ready, sprinkle with grated cheese or chopped herbs: dill, parsley, or spring onion.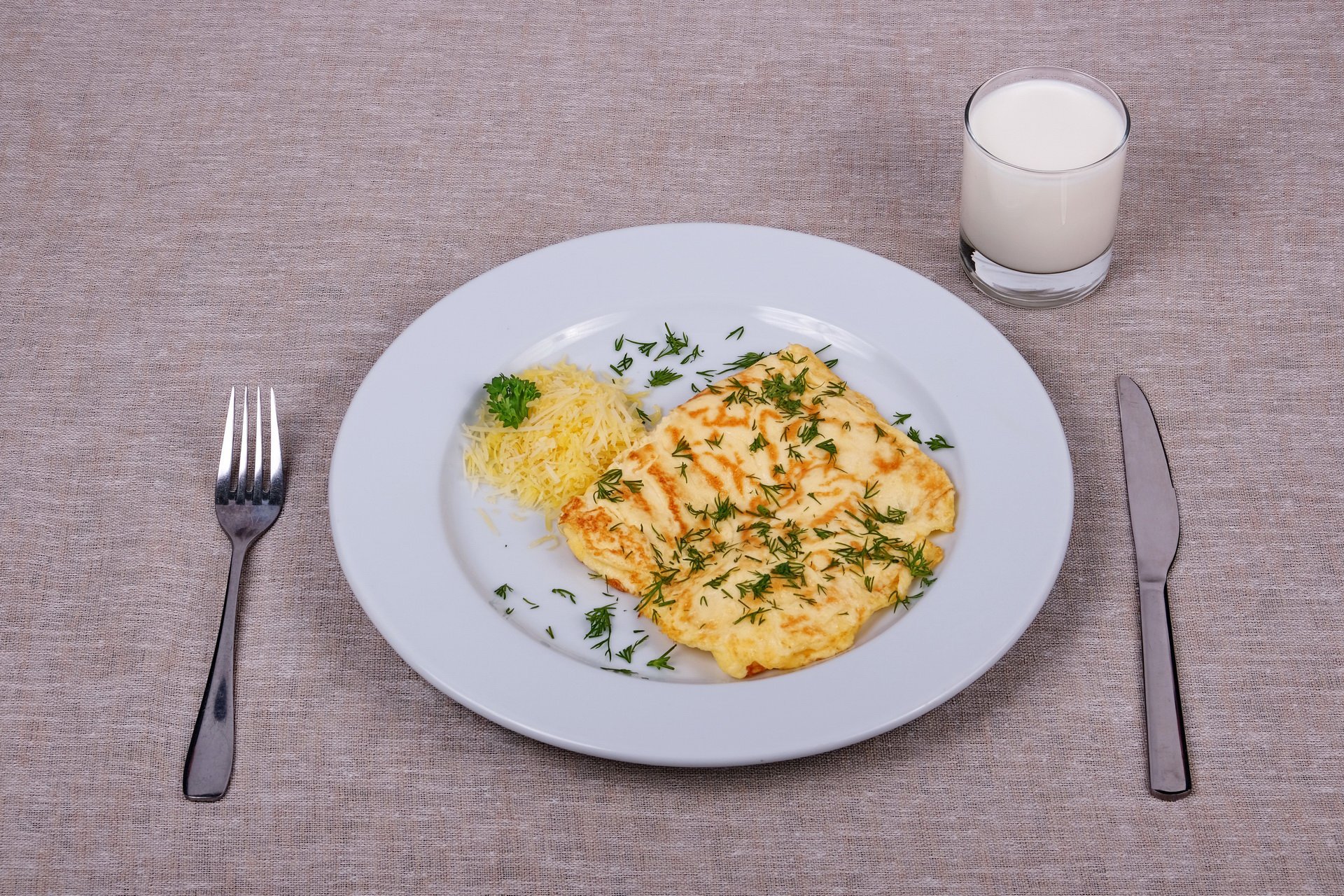 Keep what's most important in mind: the dish is tastiest when cooked with love and fresh ingredients.
Wednesday: full English breakfast
A traditional English breakfast consisting of fried eggs with toast, cheese, fried bacon, mushrooms and beans.
Ingredients:
Eggs;
Bacon;
Mushrooms;
Beans;
Cheese;
Bread for toasting;
Salt and pepper.
The fried eggs are served on toast. The mushrooms can be fresh or preserved. The same goes for the beans. Finely slice the cheese. Everything is served on a plate and makes for a very large and filling meal.
A full English breakfast is often accompanied by black pudding (also known as blood pudding), a sausage made from pig's blood, onions, herbs, spices, and oatmeal or barley.
If you drive from England into Scotland, just 100 metres after crossing the border you'll be able to find a restaurant offering a full Scottish breakfast that is almost exactly the same as the English version. The English say that the Scots are nationalists. In Scotland's northern regions, a pint of light ale is a mandatory component of the dish. If you order breakfast there you can expect to be served a glass of ale as standard, even if it's still 8 o'clock in the morning.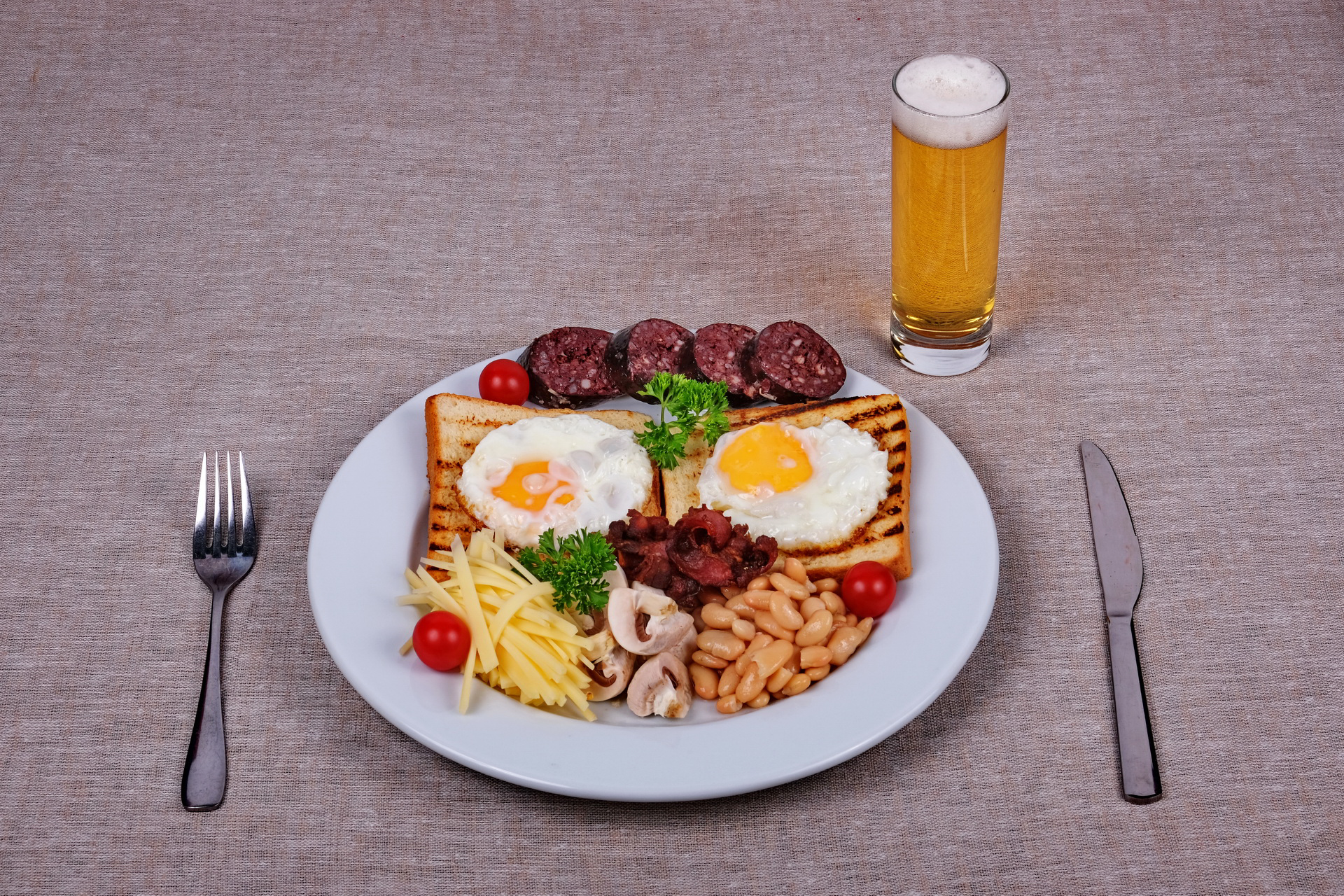 Thursday: shakshouka
A North African egg dish that is also quite common in Azerbaijan and many Arab countries. The basis of the dish is poached eggs in a tomato sauce.
Ingredients:
Eggs;
Tomatoes or tomato paste;
Cumin;
Bell pepper;
Onion;
Garlic;
Salt and pepper.
First, fry the onion, garlic and bell pepper in a deep frying pan before adding the tomato paste or finely chopped tomatoes. Mix everything together and stew for 2 to 3 minutes or until thickened. Then crack the eggs on top of the mixture without breaking the yolks and – this is key – cover the pan with a lid. Poach the eggs for five more minutes. Adding cumin to the tomato paste gives the dish its oriental flavour.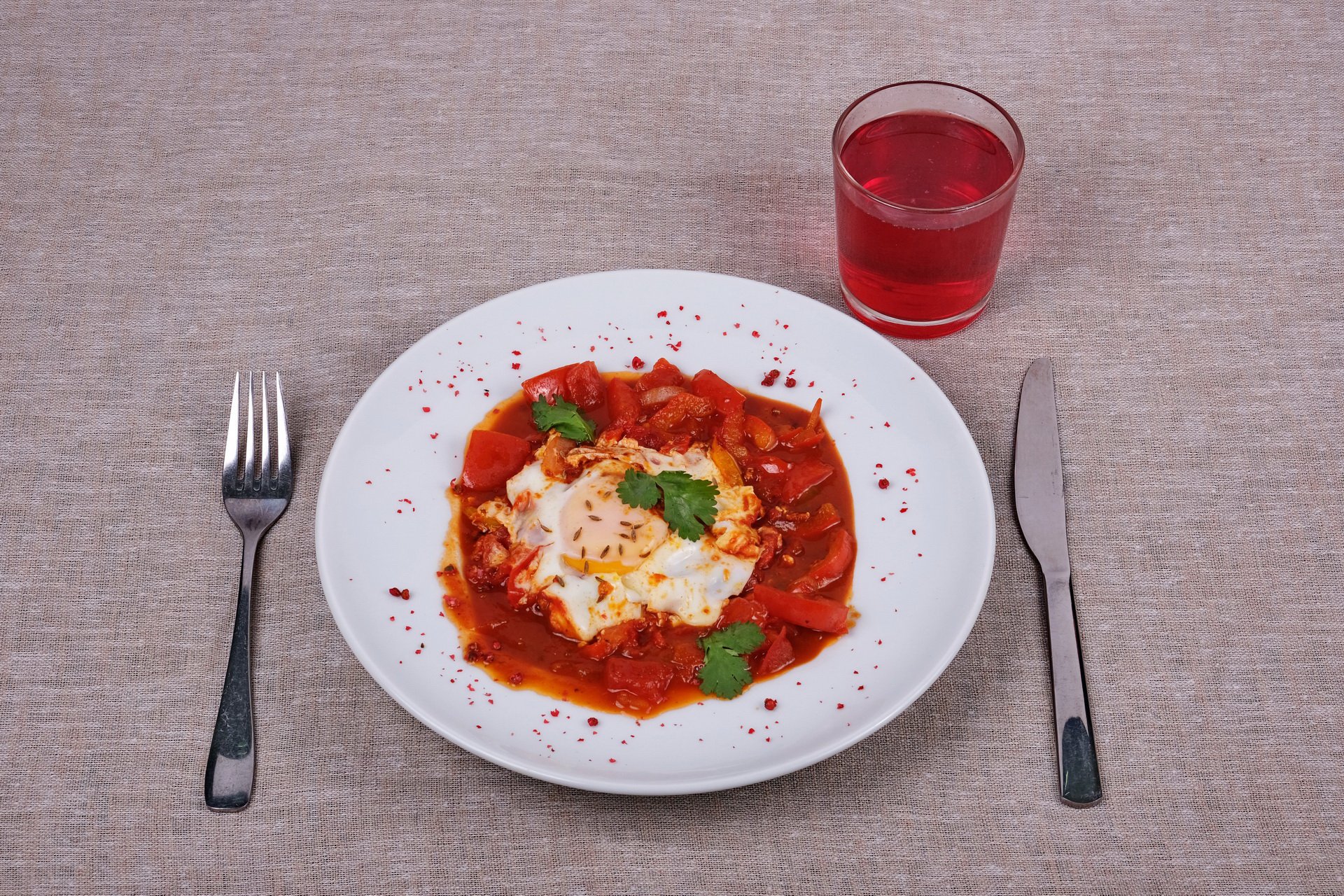 Friday: Korean-style fried eggs
Ingredients:
Eggs;
Onion;
Hot dogs;
Korean carrot salad;
Salt and pepper.
Firstly, brown the onions in a frying pan, then add the tomatoes and hot dogs and fry together. Set aside on a plate.
Crack the eggs gently in the frying pan so as not to damage the yolks and so that the eggs don't touch each other. Fry the eggs for 2 to 3 minutes then turn them over carefully with a spatula and fry on the other side for 1 to 2 more minutes. The yolk should remain soft on the inside and break if pricked with a fork.
Arrange the eggs on a plate with the fried vegetables, hot dogs and the national ingredient – Korean carrot salad. Fun fact: Koreans usually prepare this dish with more carrots than fried eggs.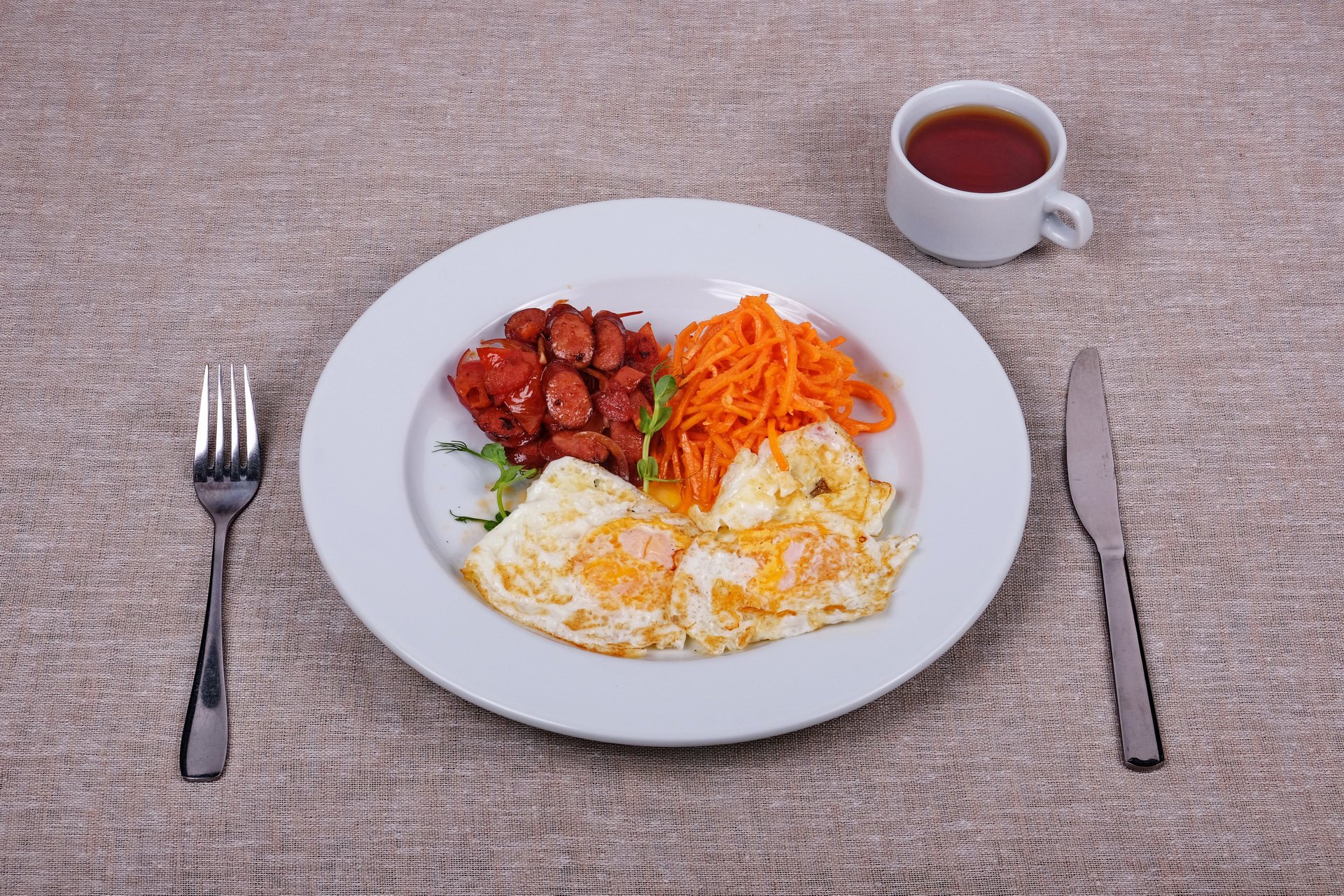 Birds' eggs contain protein and amino acids. In addition to chickens, the eggs of geese, turkeys and guinea fowl are considered delicacies and are suitable for all of these recipes.
Saturday: 炒鸡蛋
Don't be alarmed. This is just the name for scrambled eggs in China, where they are cooked with tomatoes using a unique method.
Ingredients:
Eggs;
Tomatoes;
Garlic;
Spices to taste.
Whisk the eggs in a hot pan and then put them in a separate bowl. Next, fry the finely chopped garlic and tomatoes together. Add any of the following to the pan depending on your mood: vinegar, white wine, soy sauce, sugar, black pepper. Then return the eggs to the pan and stir the whole mixture together, salt, and serve.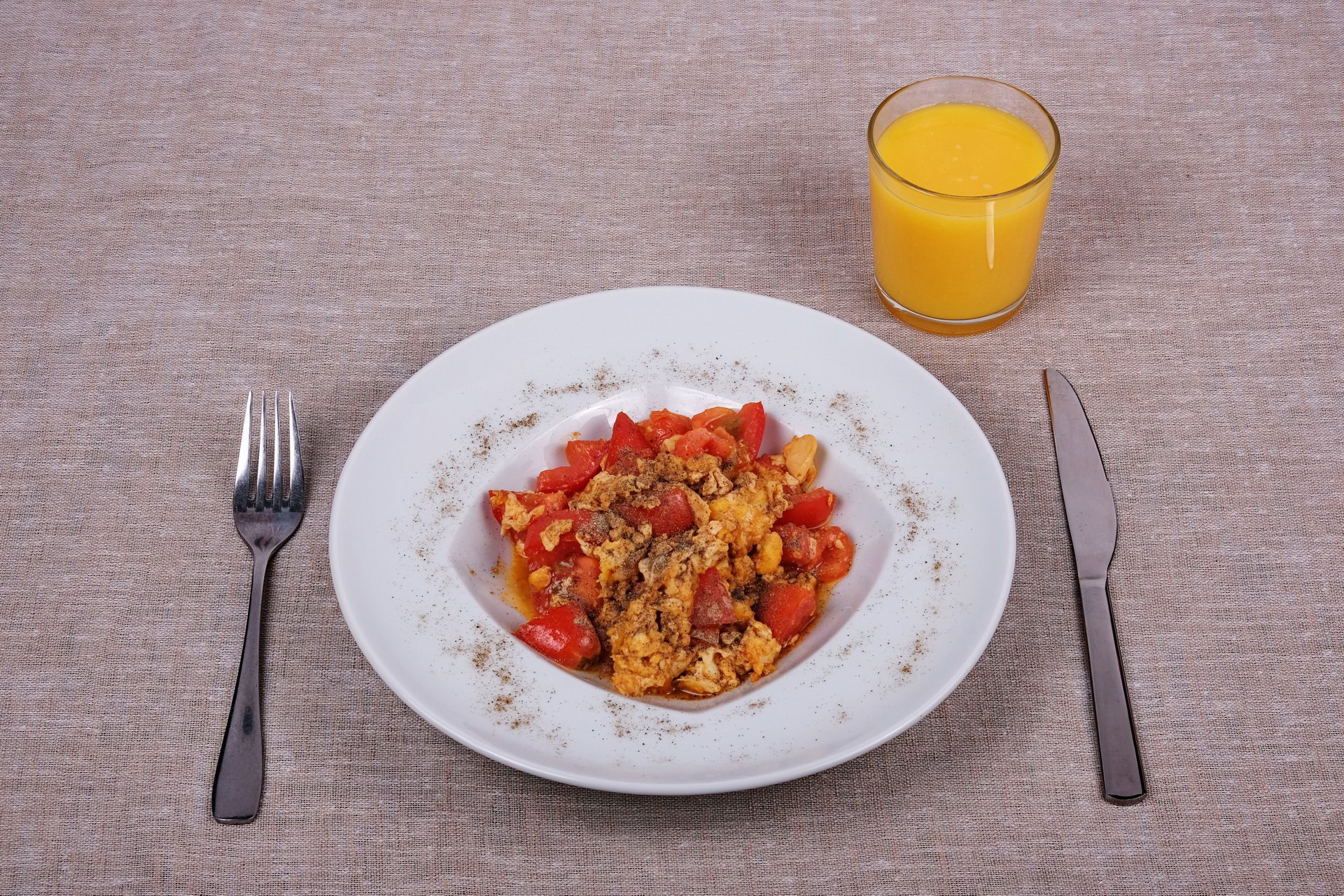 Sunday: Soviet-style devilled eggs
Ingredients:
Two eggs;
Mayonnaise;
Tinned green peas;
Ham.
Take one or two hard boiled eggs, then cool, peel and cut into halves. Put a dollop of mayonnaise on each half. Serve on a plate with green peas and sliced ham. You now have a substantial breakfast, just like a snack or salad straight from a Soviet canteen menu.